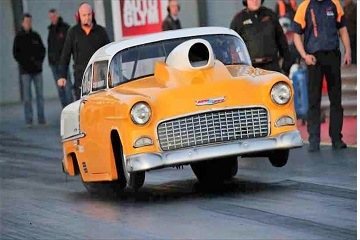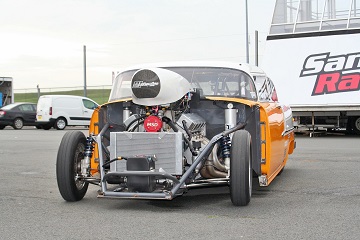 1955 Chevy Bel air Doorslammer 65,000 GBP
Also available as a Roller £37,500
Quickest timing 7"46 at 181mph,
We Can assist with shipping worldwide. Pictures and videos here https://drive.google.com/open…
Ex sumo, now comp elim, super pro, nostaglia or RWYB Harwood body with 3" chop, yellow and white with 55 badges, door handles , side mouldings , headlights and tail lights and airbrushed front grill and bumpers. Lexan windows. CDS full tube chassis, with all floor pans and sheet metal work powder coated gray. 529ci BBC built by ICE. Dart big M block, dart alum heads and tunnel ram all flowed and ported by ICE. JE pistons, ally rods, crower crank, fluid damper, jesel belt drive, split 1050 dominators, MSD belt driven front mounted distributor, HVC 2 coil. Ally 3 step sump, moroso ext belt driven oil pump, 3 vane moroso vac pump vented from moroso fabricated covers to alum breather.  N20 single fogger through 0.090 thou solenoids with dry spray bar. Fed from Jaz front mounted cell and BG400 fuel pump.Alum front and mid plates. All plumbed with black and gold anodised fittings. Stainless ARP 12 point fasteners throughout engine bay. Aluminium radiator , Meziere water pump, plumbed with additional fitting drilled into heads , all in blackanodised fittings and black braided hose. Spindle mount polished Convo pros. Strange front struts with drilled discs and wilwood calipers. Strange master cylinder. Flaming river rack. Fibreglass 55 dashboard . ARC membrane overhead switch panel.MSD power grid with additional launch controller.  Tracecraft data logger. Front and rear linear sensors, fuel pressures, N20 pressures, rpm and final drive, EGT's and O2 in each collector. Bruno/ lenco 3 speed transmission on air shifted pods.Just installed brand new Browell alum bellhousing. Meziere ' pro mod ' style flexplate and Meziere 10 tpi starter. PTC bolt together torque converter.
More info available.
1965 Ford Mustang Coupe 16,500 GBP
289 V8, Automatic Transmission, power steering, power brakes and styled steel wheels with brand new BF Goodrich tires.
Super solid and straight car. Nice cruiser
Many more pictures available please contact us
1968 Pontiac GTO
A good opportunity to own a True GTO, not a clone. Numbers matching 400ci V8, 4spd manual transmission. Custom painted to show quality Zero rust. Same owner for the last 20 years.
$36500 American dollars will buy it.
Contact us for more infos, we can assist you with worldwide shipping, Many more pictures available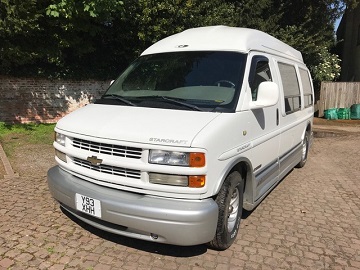 Chevrolet Express Van 5700cc v8 1999  REDUCED 10,600 GBP
Left hand drive, American import, this vehicle needs to be seen, specification is too much to list,.
Power, Air Con, Alarm, Alloy Wheels, Battery Charger, Blinds, Blown Air Heating, Blown Air System, Bluetooth, CD / Radio, Cab Air Conditioning, Colour Coded Bumpers, Cruise Control, Electric Mirrors, Electric Windows, End Lounge, Fixed Bed, Front Marker Lights, Heated Mirrors, Immobiliser, Internal Window Blinds, Large rooflight, Leather Upholstery, Multi-Function Trip Computer, Power Steering , Cab DVD / CD, Rear Seat belts, Removable carpets, TV,  Swivel Chairs, Side Running Lights.
MORE PICTURES AVAILABLE PLEASE CONTACT US
1968 Chevrolet Chevelle SS 396  30,000USD
True SS - not a clone. Performance Built 396 V8, 4spd manual transmission.
Very desirable! Nice paint and body.
No rust.  Clean, tidy interior. Many more pictures available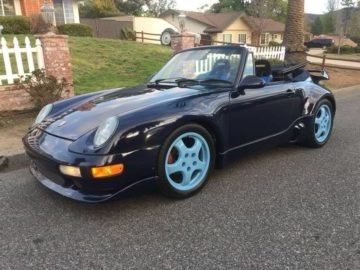 1987 Porsche Carrera Cabriolet   28,000 USD
Professionally installed 993 kit.
All steel, over $40k invested.
A real eye catching car. Many more pictures available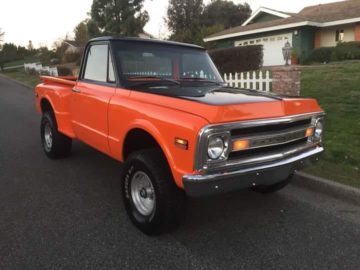 1970 Chevrolet K10 Pickup  26,000 USD
Fully restored. Southern California truck. Rebuilt 350 V8, 4spd manual transmission.
Very nice paint and interior. Many more pictures available
1956 Ford F100    21,500 USD
460 big block Ford V8, Automatic Transmission, power steering, tilt steering column.
Plymouth Volare front end. Runs and drives excellent. No rust issues.
Needs minor paint work. Interior is nice! Many more pictures available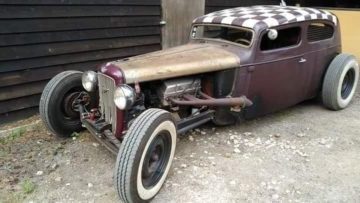 1937 Austin 10 12,950 GBP ONO
For sale on behalf of our client and friend a very special hot rod,
Changed from 4 door to 2 door, 4 inch roof chop channeled 4 inch
350 crate engine with alloy heads, TH400 gearbox. Rear axle from a 1970s Oldsmobile, Holly carb, Proper California style rat rod
Original sun roof still works, 16 inch steel wheels, Period Beam front end. Vega steering box, Removable steering wheel, Discs on front, Drums on rear
Not for the faint hearted, I have the full specification for the engine built by Real Steel. Only done 3k miles from new 370BHP   400FPT Many more pictures available
1932 Ford Highboy Roadster 38,000 USD
Chevrolet 350 V8
Automatic Transmission
Fiberglass body
Custom interior
If you wish to own it get in touch before someone else does, Many more pictures available
Super Rare 1971 Boss 351 Ford Mustang 53,000 USD
Everything is correct - numbers matching 351C engine, 4 speed Toploader transmission and 9" Traction-Lok rear end and 3.91:1 gears.
One of only 1,806 Boss 351 Mustangs made. This one has been beautifully restored with all correct stickers and paint blots. The only notable part that is not original is the carburetor.
Marti Report Verified.
Original colors and proper finishes. One of the nicest Boss 351's available on the market.
Truly a collector / investment quality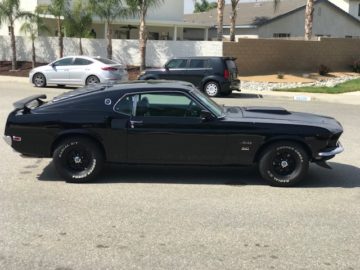 1969 Ford Mustang Sportsroof (Fastback) 34,000 USD
347 stroker V8, power steering Automatic Transmition, no rust issues. Southern California car.
Well built and ready to drive!
1969 Chevrolet El Camino SOLD
    1968 Ford Mustang GT Fastback SOLD